Moultrie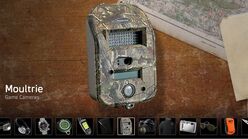 Description
Edit
Wouldn't it be great if we could suddenly double the amount of personnel on an investigation? With the 5.0 Outfitter IR from Moultrie, we were able to do just that by deploying a handful of these lightweight units well beyond our base-camp perimeter. These autonomous cameras start firing pictures of anything that crosses their path. Each unit contains an infrared flash that won't spook animals, 72 infrared LEDs that illuminate out to 45 feet, and removable SD cards that can be popped out and reviewed on the fly. Images are stamped with the date, time, temperature and moon phase for detailed scouting records and with more than 150 days of battery life, these cameras are the hardest working members of our 8 person team. Also, they complain less than all of us put together.
Ad blocker interference detected!
Wikia is a free-to-use site that makes money from advertising. We have a modified experience for viewers using ad blockers

Wikia is not accessible if you've made further modifications. Remove the custom ad blocker rule(s) and the page will load as expected.